Instagram is Now 2nd Largest Social Media Site
Hey TECH SMBs…get out your cameras and start snapping! Those bright graphics and dramatic displays in your booth at a trade show…that dazzling product unveiling at a major corporate launch event…a sophisticated setup for an all-new training event – all captured with your smartphone or digital camera and ready to share. You'll want to consider posting those company & business-appropriate images on Instagram…now the second largest social media network in the U.S., according to new data released by eMarketer.
Not only that, but the researcher says more is to come from Instagram…
In a stunning new series of data analyses and forecasts, eMarketer says the number of users of Instagram grew by an amazing 60% in 2014 and now represents 20% of the entire population. With a total of 64.2 million users, the social photo sharing site's penetration jumped almost 8% in one year over last year's 12.7% penetration with 40.2 million users.
And this growth last year is after Instagram grew by more than 93% in 2013. While the pace of growth is expected to taper…the total number of devoted users of the site are reaching stunning levels. According to new forecasts from eMarketer, Instagram will achieve more than 106 million users in just the next three years – about one out of every three Americans will be regular users of Instagram.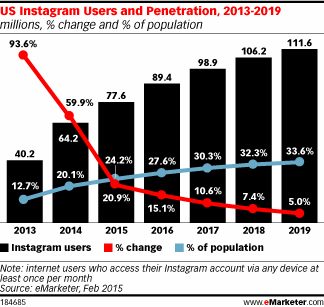 An unexpected burst of growth….
Surprising many analysts, Instagram's rate of growth allowed it bypass Twitter – which also grew, but at a lower rate. Twitter grew 12.1% in 2014, reaching a total of 48.4 million users, according to eMarketer estimates.
And eMarketer forecasts that Twitter's growth rate will continue in the single digits from this point forward – while Instagram's rate is expected to stay in double digits until it hits 100 million users in 2018. And with this difference in both user base and growth rate – Instagram will continue to leave Twitter in its dust…almost double in size vs. Twitter by 2019.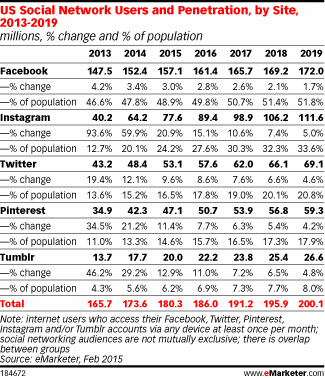 "Instagram has a lot of momentum in the US, growing faster than Twitter, Pinterest, Tumblr and Facebook," Debra Aho Williamson, principal analyst at eMarketer said in a prepared statement. "The simplicity of the app is what is most appealing; Instagram has stayed true to its core mission – delivering beautiful imagery and videos – while other services, such as Snapchat, have loaded on lots of new features."
Users skew young…
As you consider adding Instagram to your social media program – or increasing your focus there if you are already on Instagram – know that its audience currently skews young. According to eMarketer data, Instagram users are largely in the 12-to-34 year-old age range.
Beginning this year, Instagram will see more than a quarter of their entire user base, or 26.2% of their users, in the 25-to-34 year-old age range. This equates to a total of 20.3 million users. eMarketer says this age range, as a percentage,  will continue to be the largest single range through 2019.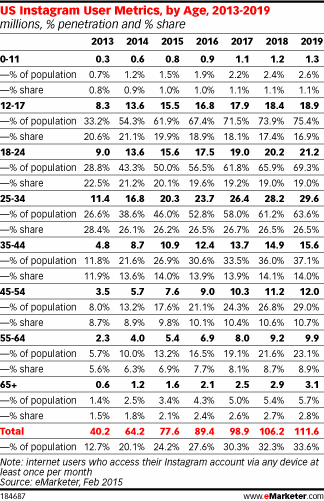 Particularly big with teenagers…
But in terms of penetration of an age range, a surprising 61.9% of all US teenagers in the 12-to-17 year-old age range will use Instagram regularly in 2015. By 2019, this remarkable level of penetration will grow even further to more than three-quarters of this age group.
Moving forward, eMarketer projects that Instagram's user base age range will balance out over time. All age categories will grow, but others ranges will grow slightly faster than the youth segments, expanding its support to all ages.
To learn more about this new data, see: www.emarketer.com.